hey dolls... sorrie i didn't post anything yesterday.. this week was my midterm week so i was quite busy but now i'm on spring break finally!! haha.. well heres a quick review
Wet & Wild Cream Eyeliner
Price: $3.99
Where to buy: Rite Aid or any drugstore that carries wet&wild products
Staying Power: 10/10
Color pay-off: 9/10
Packaging: 8/10
Would I re-purchase: YES
So this is a good dupe for mac's black track as long as you use a good brush. It comes with a brush but it didn't work too well for me so I use sonia kashuk's bent eyeliner brush (perfect combo). It's pretty creamy & is good to use as a base. I would say it's also quite similar to L'oreal's HIP cream liner but its more than half the cost!
I got the black color & it comes out pretty dark but I usually line it with a liquid after anyways. I gave the packaging an 8 because it's kinda annoying to screw on & off because its cheap plastic...but it's $3.99... give it a break :)
On to the next,
Wet & Wild Mega Liner Liquid Liner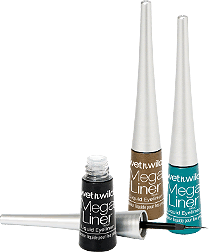 Price: $2.99
Where to buy: Rite Aid or any drugstore that carries wet&wild products
Staying Power: 10/10
Color pay-off: 10/10
Packaging: 8/10
Would I re-purchase: YES
This is a very good liquid liner... especially for the price! It is a brush tip applicator and you can easily make a thick or thin line with it. The color pay-off is great but it takes a second to dry so don't sneeze or do anything crazy as soon as you apply it.. lol.. yes i've sneezed after applying and had to take off all my makeup because of that >.<
The packaging is again an 8 because its cheap plastic & the rubber stopper which is suppose to grab all the excess product before the brush comes out, doesn't do it's job 100% but it still works!
Good dupe for sephora's long-lasting liquid liner (mentioned in my review below) especially if you don't want to spend more than $5.
Have you guys tried any of these yet? Wet & wild has some very good INEXPENSIVE products... love them~
xoxo,
L